Friday 16th June 2023
Embracing church life in South Asia
News article
Bishop Robert's blog posts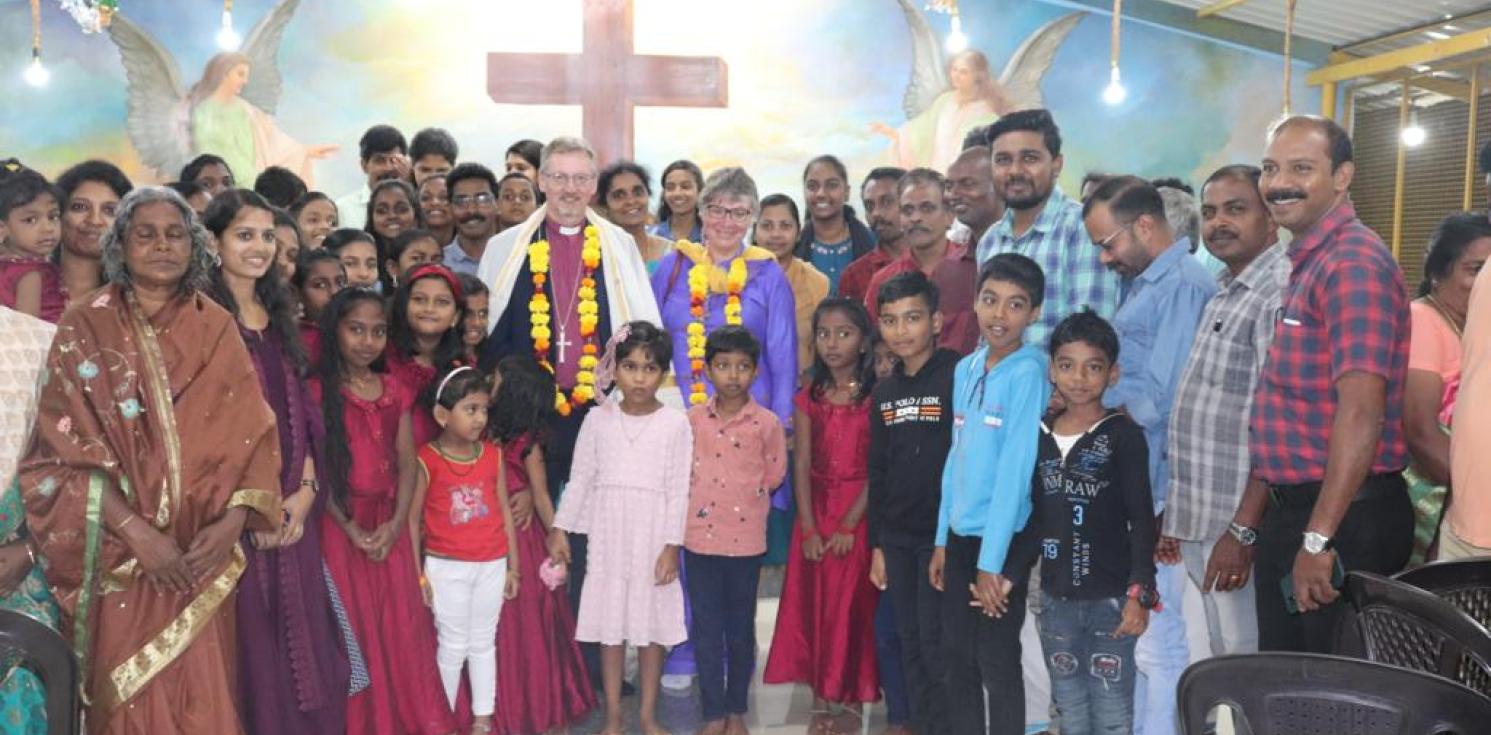 The Bishop of Gibraltar in Europe, the Rt Revd Dr Robert Innes, was back at his desk this month after a long-awaited sabbatical which he said had far exceeded his expectations.
Part of the time away from the office included visits to three countries in South Asia, which he said had enriched and deepened his understanding of the global church and interfaith relations.
"It's been fantastic. If I was scoring the sabbatical, it would be a 10 out of 10. It's been a huge gift and privilege to have these three months," Bishop Robert said.
Church of England clergy are entitled to a sabbatical every ten years to enable them to find personal and spiritual refreshment, but this was the first time Bishop Robert had taken one. "It's come at quite a late stage, after 27 years of ministry. But I'm glad that I have had it at this moment because the experiences I had, I couldn't have had at an earlier stage in my ministry."
For Bishop Robert and his wife Helen it was only their second visit to the South Asian sub-continent. Bishop Robert said: "It's been hugely educational. We met people from all walks of life and saw how church community flourishes in three different religious contexts: Hindu India, Buddhist Sri Lanka and Islamic Pakistan."
Their first stop was India, where they flew into Bangalore and spent some time with one of the Diocese in Europe's archdeacons, the Ven Dr Leslie Nathaniel. Bishop Robert said, "It was a delight to spend time with Leslie's family and to worship at All Saints Bangalore where Leslie and Julie were married. We were also able to visit – the now huge - Amaravila church in Kerala where Leslie's great-grandfather, The Revd. G. Sathianathen, worked with the London Missionary Society as the first pastor."
Bishop Robert and Helen were welcomed by Principal Dr. David Joy to Kerala United Theological Seminary. They had opportunity to gain an insight into how students learn theology in a South Asian context and were invited to address the student community. There followed a joyful tree planting ceremony! 
"They are learning their theology in a Hindu world, which is a very different context from secular Europe," he said. "Also, seeing a map of the world in one of the corridors dominated by South Asia and Australasia, and in which Europe was only marginally present on a far coast, certainly puts one's worldview in a new perspective."
"It was a reminder that this is where a sixth of the world's population live – much of the future will be delivered by India and China, owing to their economic prosperity and the sheer volume of people and young demographic of these countries."
Bishop Robert said one of the most treasured moments during the whole South Asia trip was a visit to a rural community in Kerala near the Tamil Nadu border, where they were hosted at Mount Calvary Church by its vicar, the Revd Akhil.
"We were overwhelmed by the warmth of the welcome we received from this poor community of rubber-tappers. We were led through the village to the church in a parade headed by an enthusiastic brass band. After worship, and lots of photos, they gave us a meal with delicious local ingredients, which I can only describe as a banquet. They had even gone to the market to buy us knives and forks to make us feel comfortable." 
Bishop Robert and Helen were also able to enjoy a boat trip through Kerala's Backwaters with their amazing mangrove forests and bird life. "Kerala was every bit as beautiful as I had been led to believe," he said.
In Sri Lanka the bishop and his wife renewed their friendship with Bishop Dhilo Canagasabey and his wife, Harshini. Bishop Dhilo introduced them to numerous institutions and key people, including a diocesan care home and the mother superior who oversees it.
They enjoyed the beauty of the tea plantations in the mountains and saw what is involved in the production of tea, from picking to packing. They were so impressed by this industry that when you visit the bishop's office in Brussels you will now be offered fairly traded Ceylon Tea!
Bishop Robert and Helen were struck by the tragedy of a country with extraordinary resources and natural beauty that has been riven by civil war and now by crippling debts. "Sadly, I met key professionals planning to leave because of the unaffordable tax rises required by the IMF to meet national debt repayments. The aggressive economic reforms could mean the country loses its brightest and best", Bishop Robert said.
Bishop Robert was delighted to visit to one of Sri Lanka's most sacred religious sites. He was invited to offer Lotus leaves on the world famous Buddhist shrine in Kandy, an honour he described as "totally unexpected."
The final country on their schedule was Pakistan, where Bishop Robert and Helen stayed in Hyderabad, with Bishop Kaleem John.
"The big questions I was asked in Pakistan were: 'Is the West becoming Muslim?' and 'why is the Church so weak?' I thought those were good questions for us Western Christians to continue to wrestle with."
"And secondly, they asked me about the burning of the Holy Qur'an in Stockholm. Although that wasn't such huge news in Europe, it certainly was in Pakistan. Any events which are hostile towards Islam in Europe get massive coverage in the Islamic Republic of Pakistan."
Bishop Robert explained, "Modern media mean the world is a small place. And these events in our diocese bounce back on a Christian community thousands of miles away. If supposed Christians in Europe are seen as treating the Qur'an with disrespect it generates persecution of the local Christians in Pakistan. Sadly, this is a Church which does experience persecution. Nonetheless, we found Christians in good heart with some very good leadership."
Leaving Hyderabad, Bishop Robert and Helen flew to Islamabad where they stayed at the Christian Study Centre in Rawalpindi as guests of its director, Bishop Samuel Azariah. The Centre promotes religious dialogue, and maintains a wide range of important contacts.
Bishop Samuel arranged a meeting with the Federal Minister for Religious Affairs and Interfaith Harmony, Mufti Abdul Shakoor, which was an opportunity for Bishop Robert to hear more about what is going on at national government level to promote mutual harmony and respect between Muslims and Christians. At this level, Pakistan is aiming to promote a tolerant and moderate form of Islam. The challenge, however, is to work this out in local communities. 
"While we were in Rawalpindi, there was a terrible explosion at a mosque not so far away in Peshawar with some 200 police killed. Pakistan is a complicated country with competing strands of Islam where maintaining human rights and the rule of law can be a massive struggle", he said.
As he looks back on a deeply formative experience, Bishop Robert commented, "The sabbatical has given me a much wider perspective on my ministry in Europe and a way to place that in a global context. It gives me a better understanding of the home context of our South Asian laity and clergy. It will enable me to pray more intelligently for Christian brothers and sisters in Asia."
"The shape and content of our visit was only possible because of the hard work, careful planning and generous hospitality of our wonderful hosts in these three countries. I am deeply grateful to them for sharing their lives, their work and their contexts with us."