Thursday 15th December 2022
Bishop Robert's Visit to Ukraine with the Archbishop of Canterbury
News article
A blog written by Bishop Robert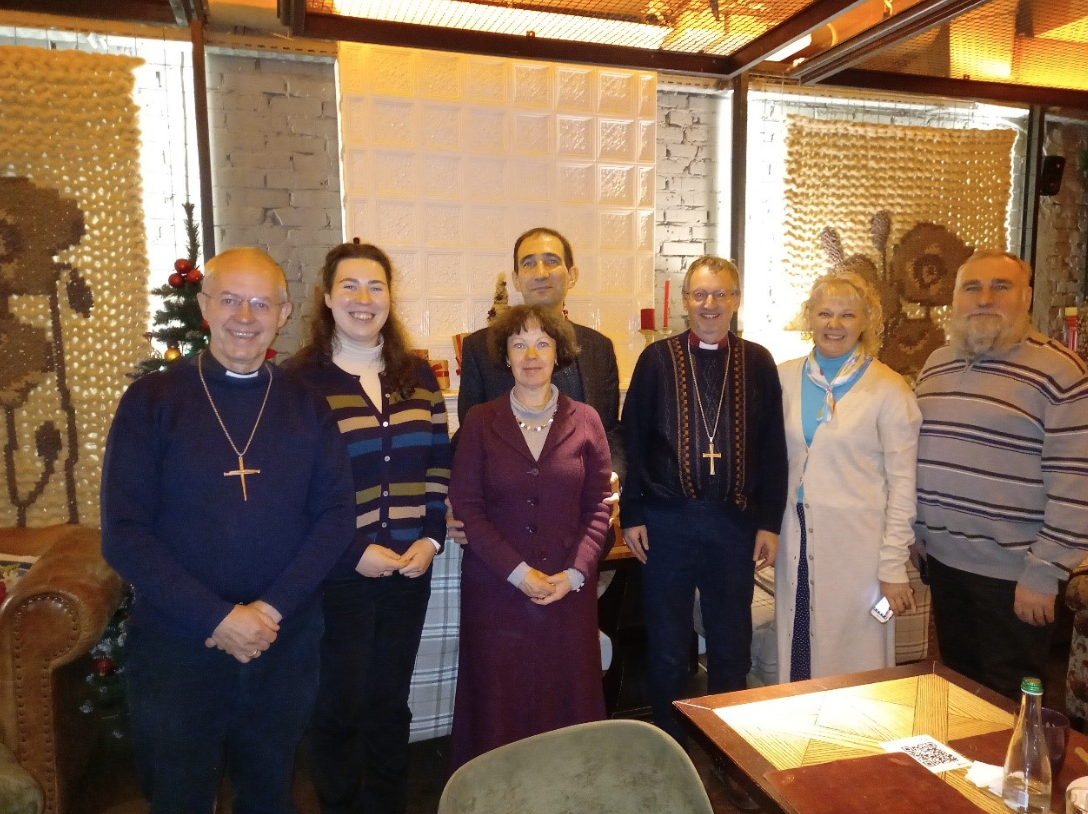 I travelled to Kyiv with a group led by the Archbishop of Canterbury. I was there to offer pastoral support and encouragement to our little Anglican community in the city, some of whose members are pictured above. Whilst in the city I listened to many stories of personal bravery and suffering. These are Christian brothers and sisters who live in fear of attack by missiles and drones, and whose electricity, heat and light is interrupted on a regular and irregular basis because of the destruction of critical infrastructure.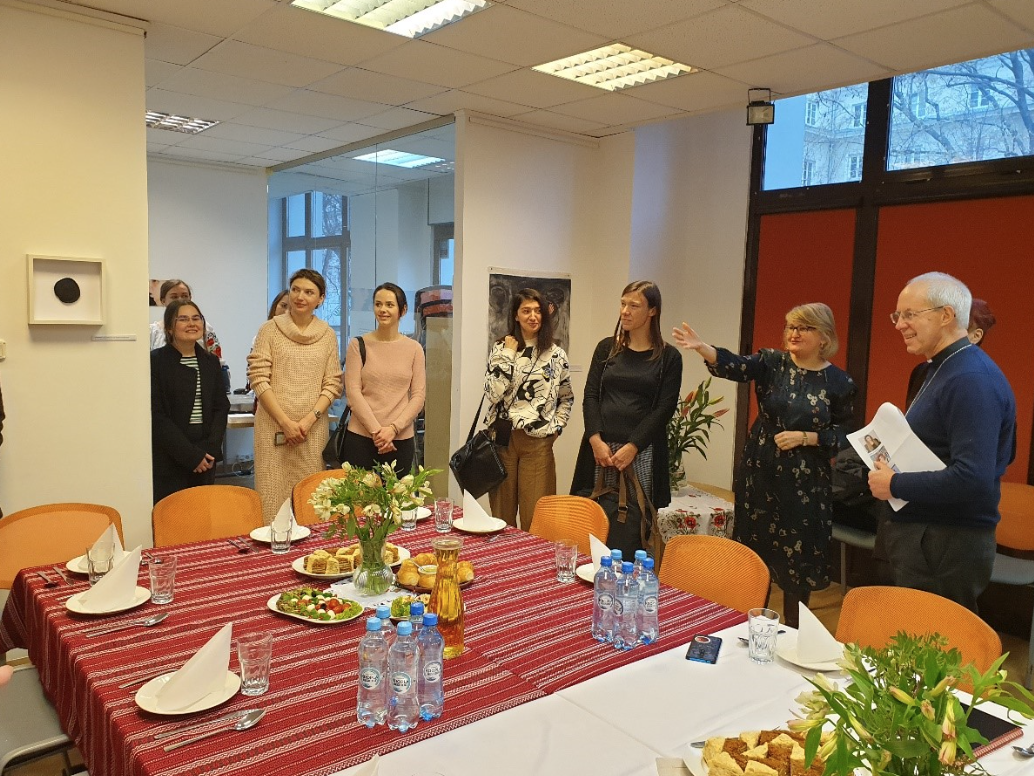 Our journey to Kyiv began with a flight to Warsaw, where we were wonderfully looked after by Chaplain David Brown and his colleagues. We visited Ukraine House, a charity set up and run by (mainly) Ukrainian women. They provide assistance to Ukrainian refugees by such things as helping them find housing, organising schooling and linking them to sources of social assistance in Poland. I was struck by the resolute determination of these women to organise a new form of social life in a foreign land and to do all they could to regain the freedom of their homeland.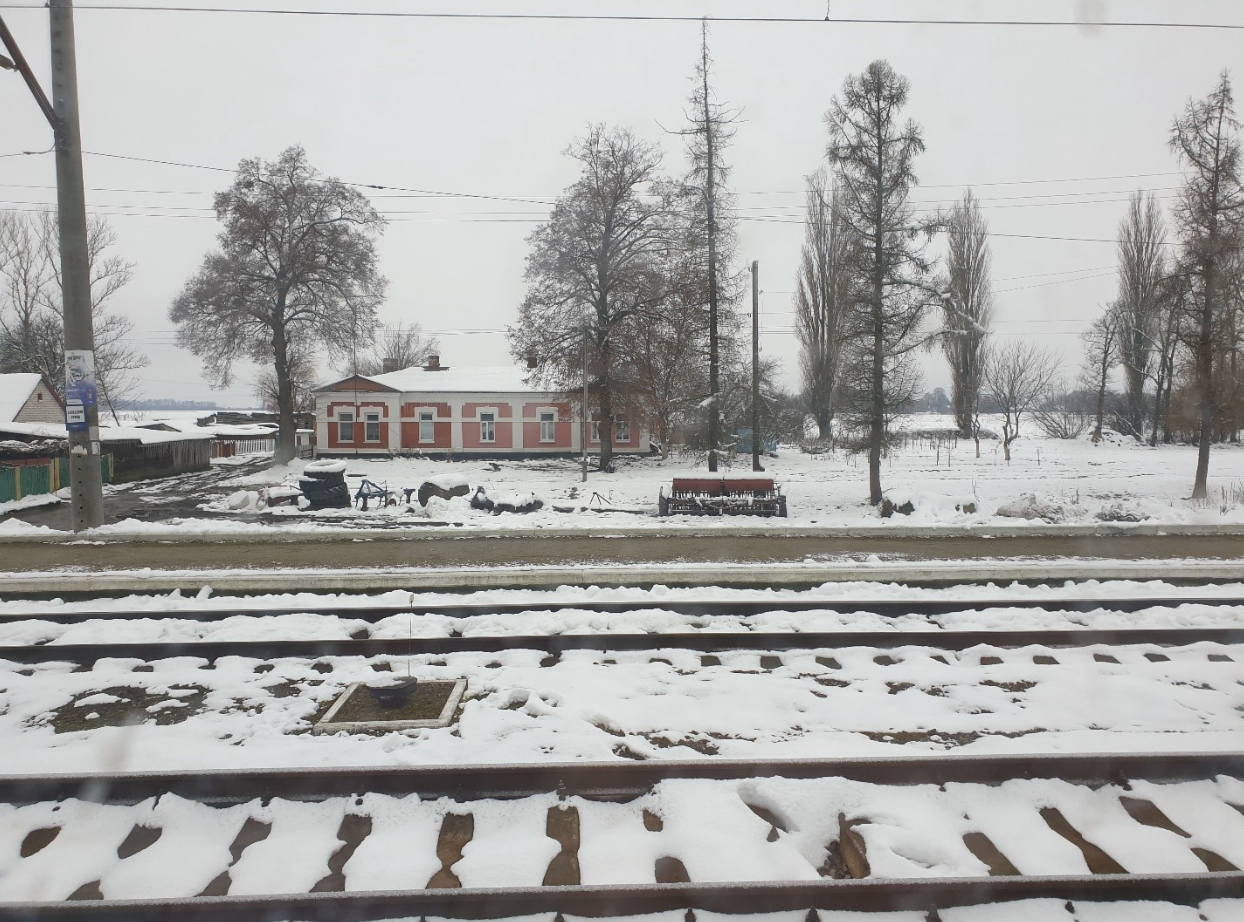 There are no flights into Ukraine. Our journey was by sleeper train and took 17 hours from Warsaw to Kyiv. As we moved further east, the weather got steadily colder. We travelled for hours through snowy forests. The winter season is, of course, only just beginning, and the temperature will drop much further. I wondered how long people could survive with serious disruption to electricity and heating under these conditions.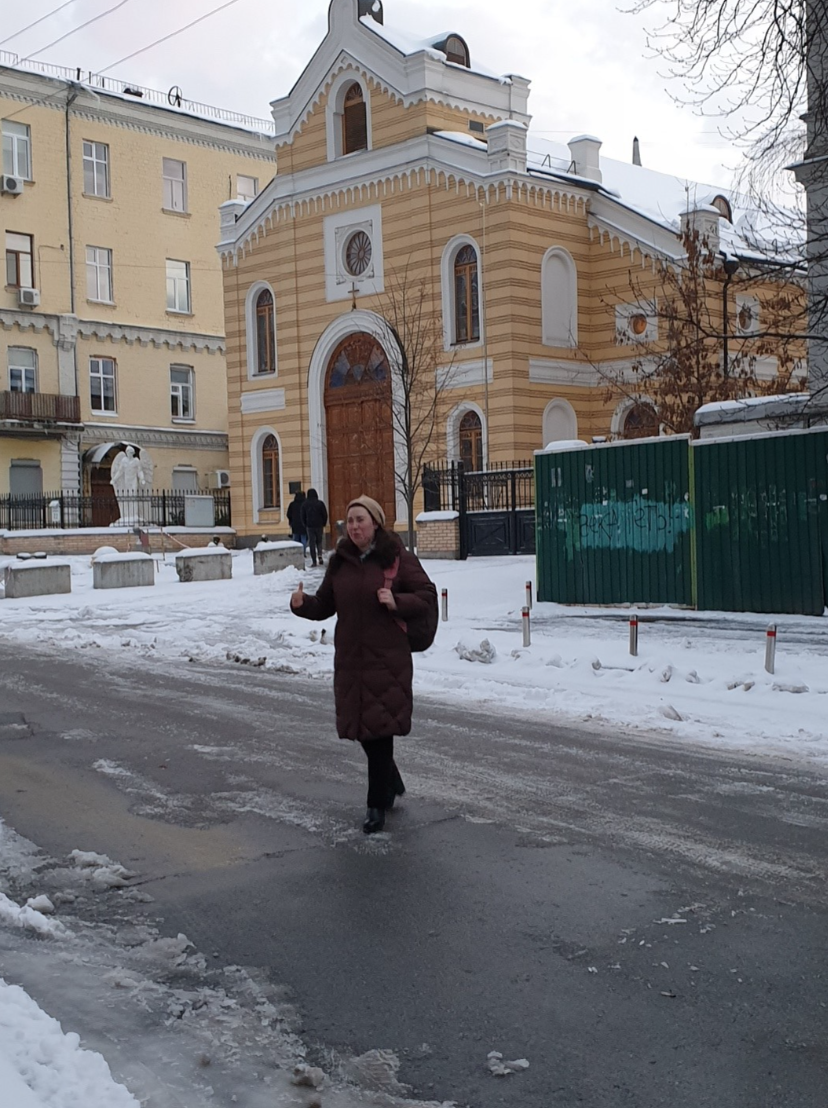 Our Anglican community meets in the Lutheran Church at the heart of the government district close to the Office of the President. It is a beautiful space, with lovely artwork, conveying a sense of peace and safety.  
Much of everyday life goes on as usual in Kyiv. There is traffic on the roads and the shops are open. But people talk of a pervading sense of anxiety and tension below the surface. This is especially noticeable at night. Most street lights are turned off, which makes walking on the icy pavements dangerous. Restaurants close early, and a strict curfew is enforced at 11:00p.m. under the regime of martial law. 
On arrival in Ukraine, visitors are asked to download an air raid alert app onto their phone. On hearing the alert, you are advised to find a bomb shelter. My alert was activated twice during our visit, the first time coinciding with a meeting with the Ukraine Religious Council (picture below).  
The picture above shows our meeting with representatives from different Christian denominations (from Orthodox to Pentecostal) as well as leaders of the Muslim and Jewish communities. They spoke movingly of their efforts to provide humanitarian support to their people, of their determined resistance to the invasion and of their desire that Ukraine is not seen as a 'victim'. They expressed sincere thanks to Great Britain for its support. And they asked for more humanitarian and military assistance.  
During our visit we wanted to bring whatever encouragement to faith leaders we could, as well as to listen and to learn. We held separate private meetings with leaders of both parts of the Orthodox Church (Moscow Patriarchate-facing Ukraine Orthodox Church and Ecumenical Patriarchate-facing Orthodox Church of Ukraine) and the Greek Catholic Church. We also held private meetings with the British Ambassadors in Kyiv and Warsaw, the Head of the International Red Cross and the Head of the United Nations Ukraine Office.  
It is evident that Churches have become centres of resilience in this conflict. And Ukrainian people have found comfort in their faith and seen many miracles of salvation over this last year.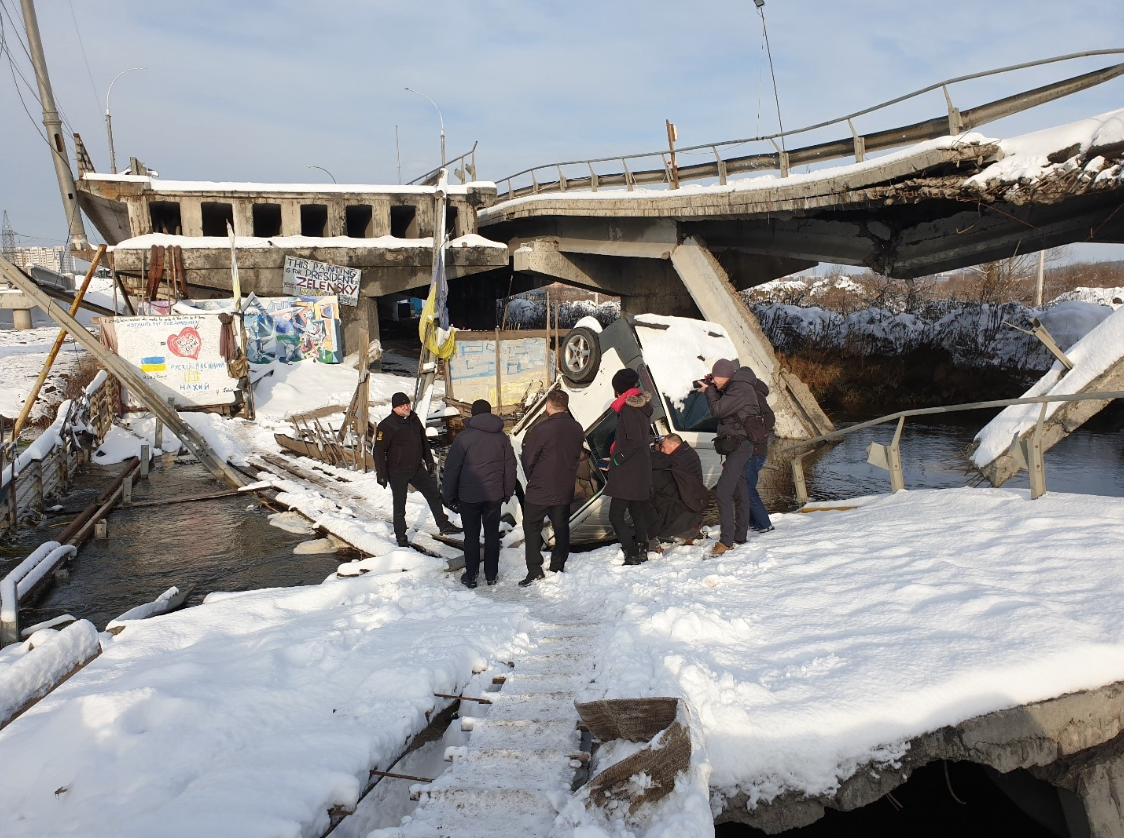 On the third day of a very full visit, we travelled to Irpin. This bridge was destroyed by Ukrainian forces to halt the Russian advance on the city. It marks the edge of the Russian assault on Kyiv. Visiting this place makes you aware of how close this bridge is to the centre of Kyiv – just 25km. Russian troops came very close to overrunning the capital back in February/March .   
Our host told us harrowing accounts of how he helped people escape under fire on a pontoon bridge or through the water, whilst there was gunfire overhead. Because it provided a place of escape, this bridge is now known as 'the Bridge of Hope'.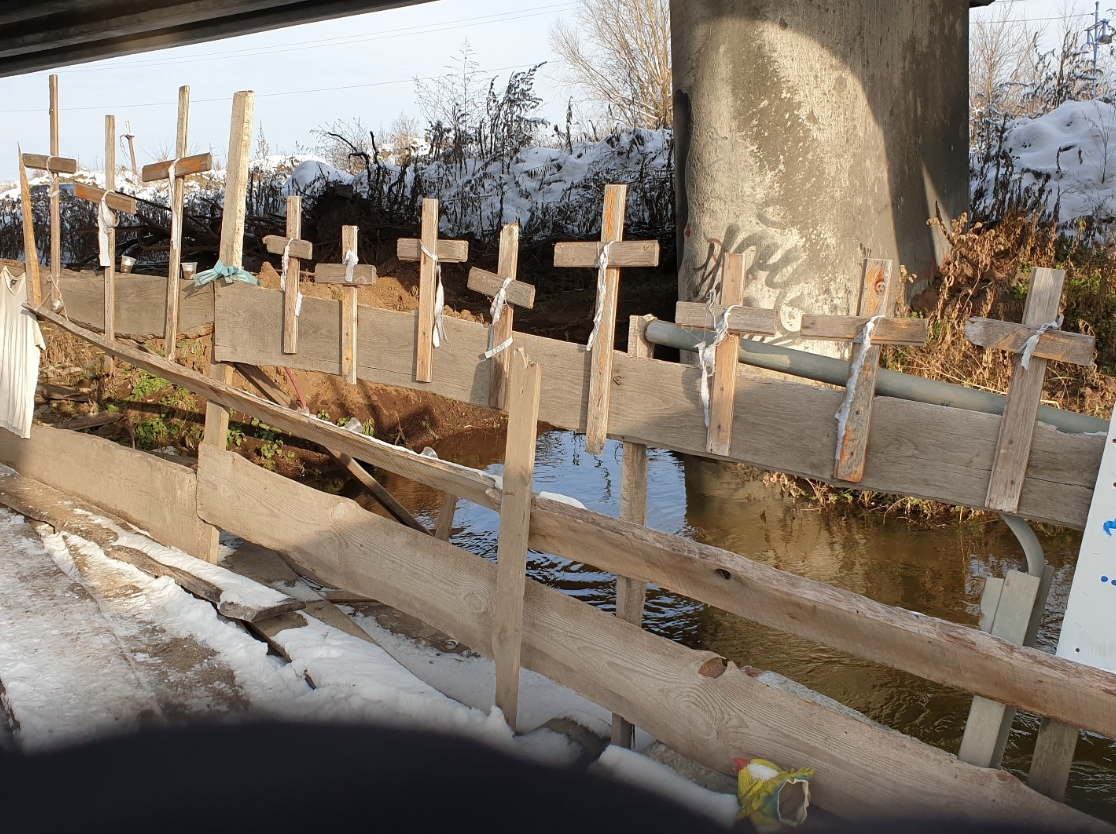 But these rough wooden crosses are a reminder of those who died here. 
I will never forget visiting this place. The ice and snow made it quite a perilous climb down to the temporary crossing. There is Ukrainian graffiti all around testifying to heartfelt patriotism and strong and understandable anger. The brook burbles along happily and sparkles in the sun. This extraordinary site, with mangled steelwork, an overturned bus and temporary crossing, powerfully evoke both death and destruction as well as embodying what became a gateway to hope and freedom.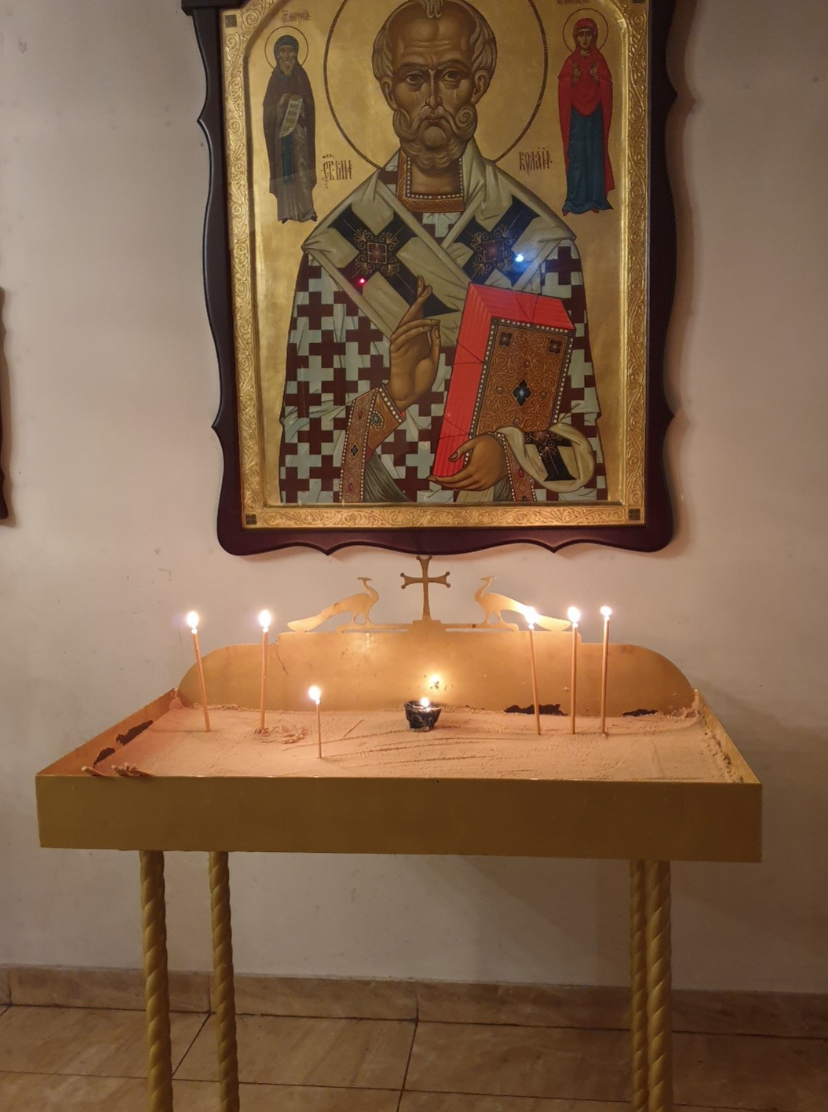 The city of Bucha adjoins Irpin and was our next stop. We were hosted by a Greek Catholic priest who had turned over the main floor of his basilica to an exhibition of photos of the atrocities committed in this area. Many bodies were found on the streets after the Russian forces retreated, some with their hands tied behind their back. The pictures depicted torture and murder and were graphic and harrowing. Our party felt a degree of revulsion towards those who had committed these crimes and those who still deny that they happened. The ground outside the Church had been used as a temporary mass grave into which bodies had been dumped. We lit candles to remember the dead.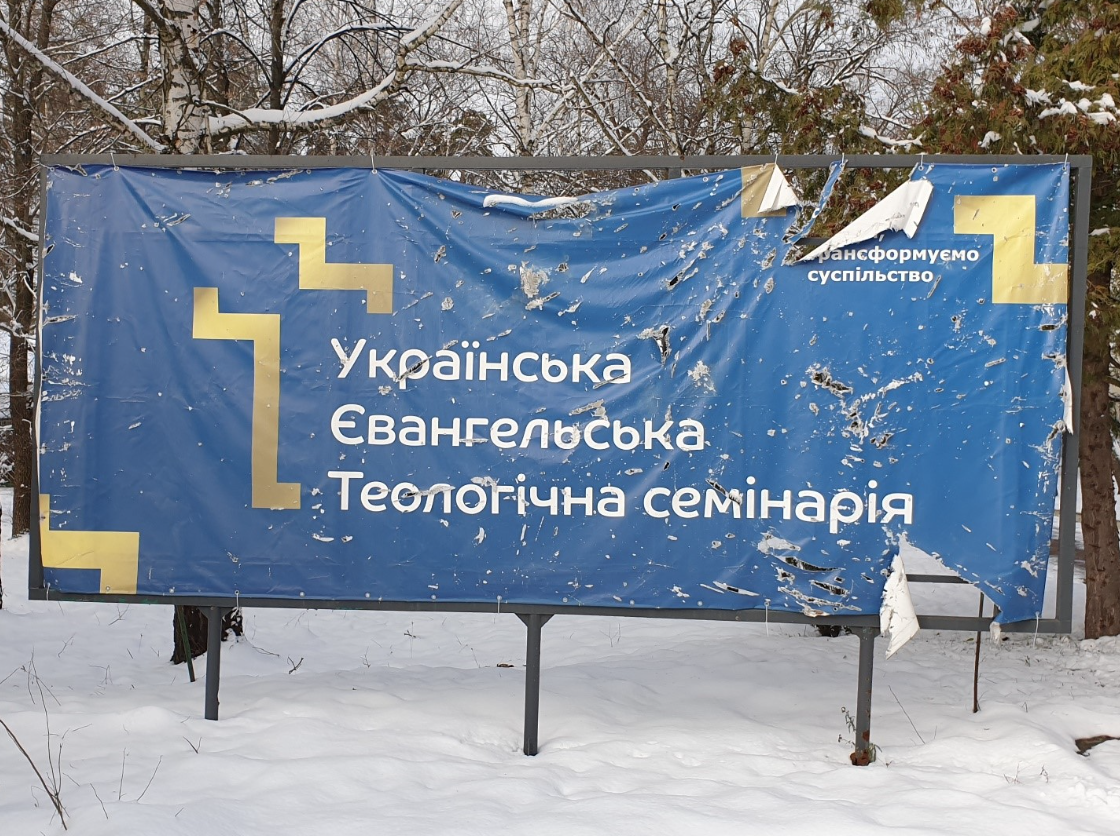 It was a short bus ride from Buchar to the Ukraine Evangelical Seminary on the edge of Kyiv. The picture shows the banner outside the building. The Ukrainian military warned the college to evacuate its premises earlier in the year. Just two days after that instruction, the building was hit by 6 Grad missiles.  The tears and holes in the banner show the evidence of the attack.
We were shown these fragments of the missiles (above). The metal is heavy and jagged. When fired it would have been red hot. It was a miracle that the library, which was directly hit, did not catch fire. Touching and feeling these missile fragments leaves one in no doubt as to the harm they do. Yet, whilst there is still evidence of damage, we were impressed at the degree to which the building has been repaired.  
Today, the college supports online learning and houses residential students when it is safe for them to do so. The College has also developed a significant humanitarian function – providing food and wood for fuel to local residents. And it makes its premises available to the military for training exercises. We were hugely impressed by the broad sense of mission demonstrated by this college.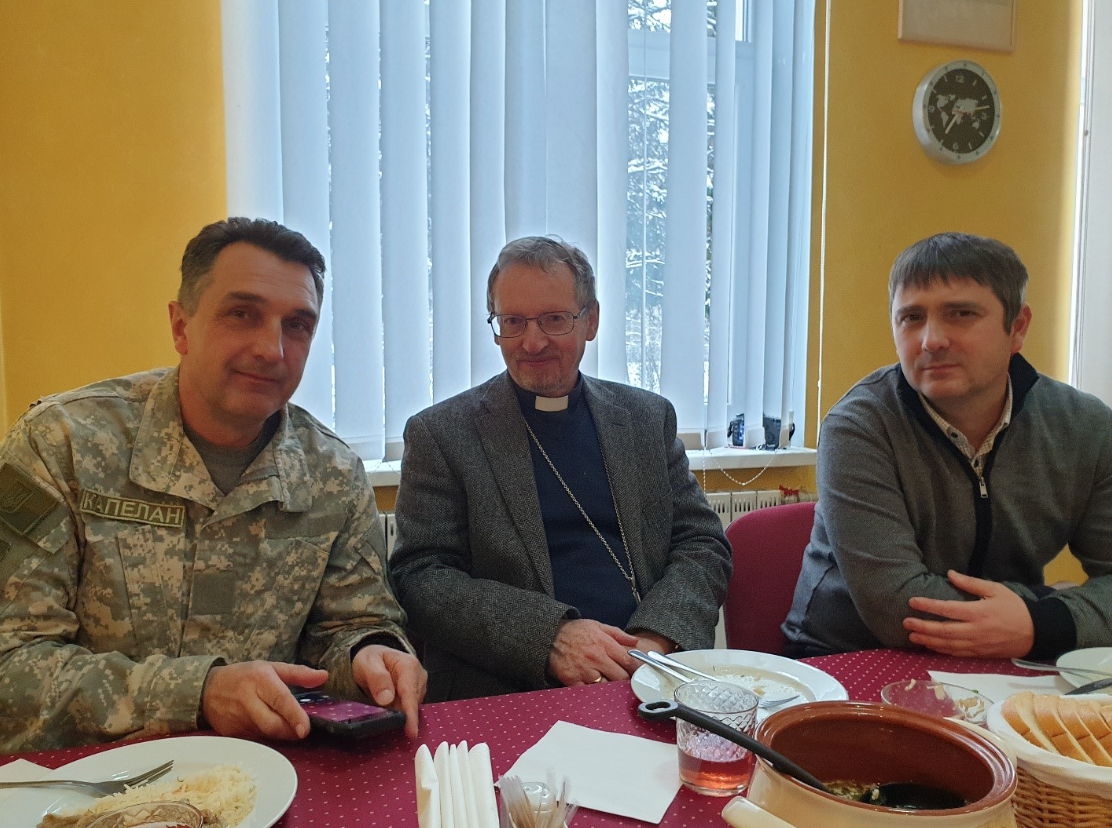 I was delighted to have lunch at the College with Pastor Alexander (left), a Baptist military chaplain ministering on the front line of the conflict in the Donbas. He had travelled to Kyiv specially to meet the Archbishop. He showed me pictures of the trenches where he works amongst the soldiers. He told me how much the soldiers appreciated having a chaplain amongst them. As he said: 'there are no atheists on the front line'. I asked him about the morale of the troops in Kherson. 'Well', he said, 'if you measured morale on a scale of zero to five, I would give them five point five.'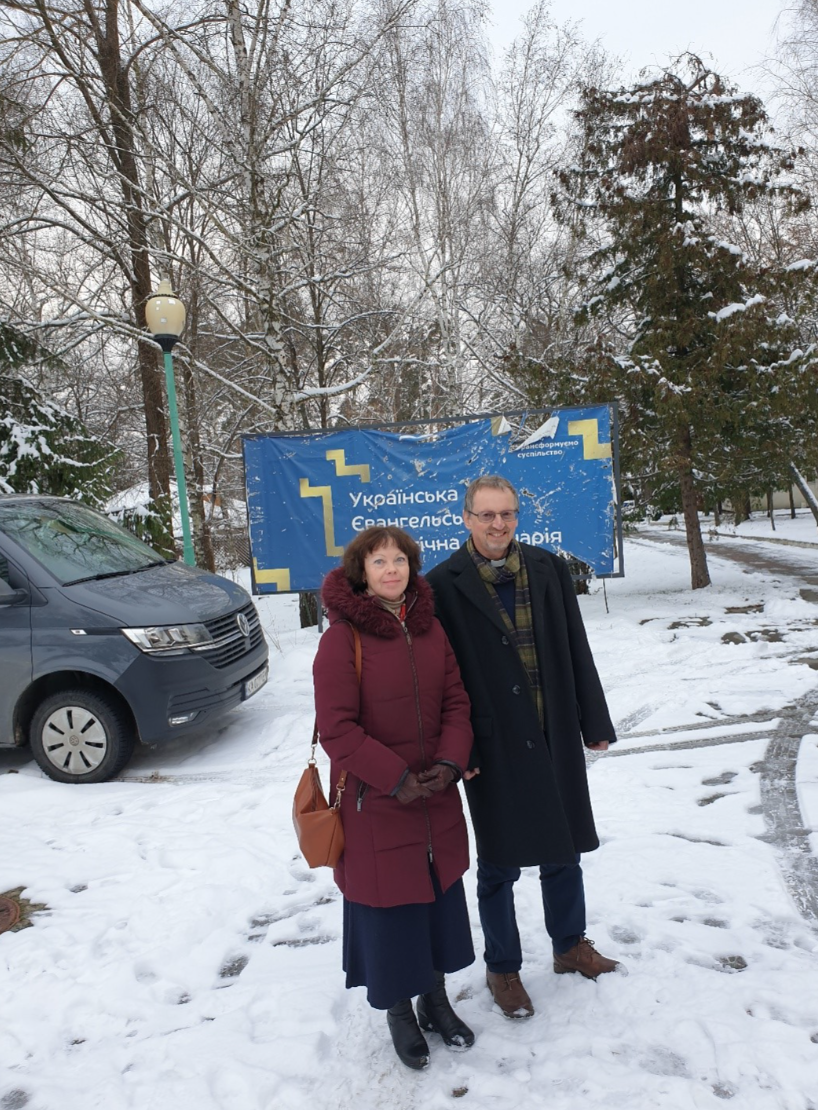 This was a very complicated trip to organize, with six participants representing different elements of the visit's purposes, and in general to support the Archbishop. We were particularly indebted to Christina Laschenko from our Kyiv Chaplaincy, pictured here, who is a professional translator. Christina accompanied us throughout, interpreted high level meetings, and with her daughter, Margo, guided us through Kyiv giving us constant good advice and help. Our group was also very grateful for the support of my own office in Brussels, and in particular my PA, Gail Wilmet, who oversaw many of the practical arrangements for the trip. The programme was assembled by Dr. Jeremy Morris, the Church of England's Ecumenical Officer, and James Megoran, the Archbishop's Director of Peacebuilding.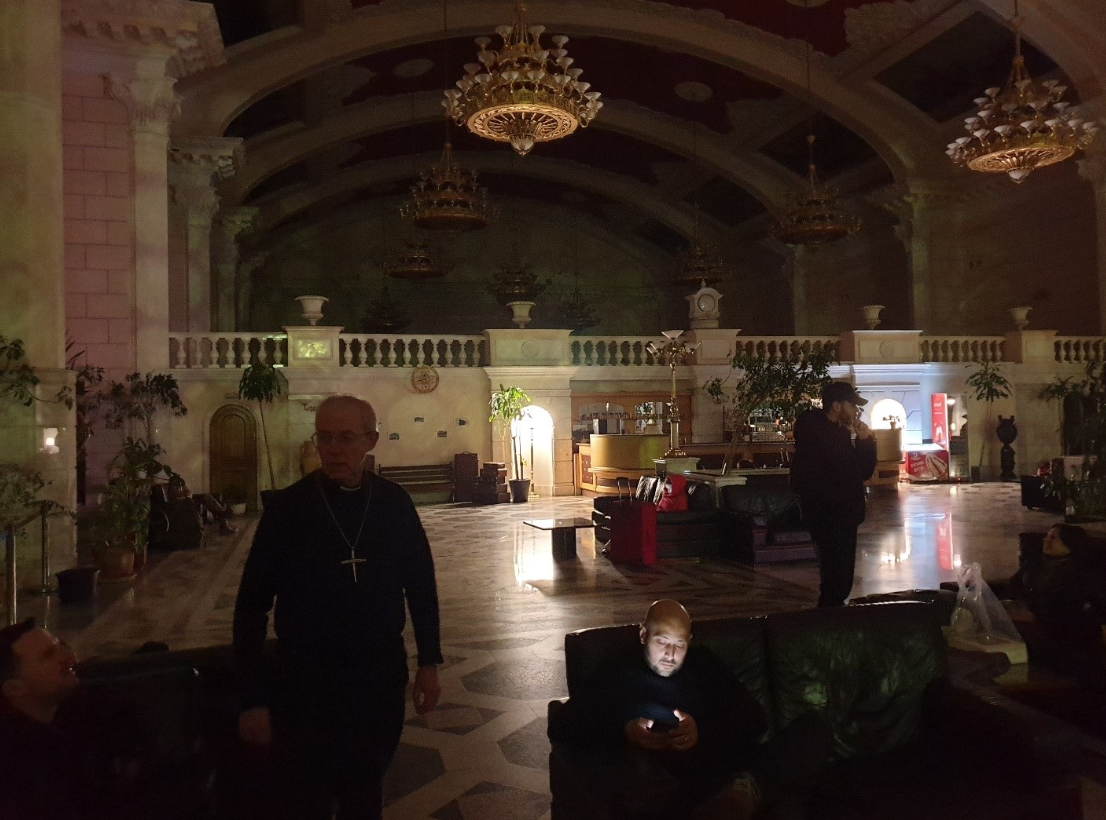 Our return home was via the midnight sleeper express from Kyiv to Chelm and then onwards to Warsaw.
This picture of the lounge in the main railway station captures what was a highly evocative scene. The grandeur of the place is discernible through the gloom of the reduced lighting. The café is lit up but closed. The large windows onto the square, out of view, are protected with plastic on the inside and shutters on the outside. Beyond the lounge, on the main concourse, large numbers of people clad in winter gear and carrying piles of luggage walk briskly towards their platforms. From here, you can travel South and East to Kherson and Kharkiv as well as West towards Lviv. I thought I sensed quiet desperation on people's faces. Getting on the train we had to show passports. A moment's reflection reminded us that the passport control at this point is mainly to prevent Ukrainian men of fighting age from boarding the international train. And, of course, most of the people on our westwards bound train were Ukrainian women.
In closing, this was a deeply sobering trip. It is clear that the damage – physical, emotional and spiritual is very deep indeed. Even if the conflict were ended today it might take two generations to repair. But it doesn't look likely to end soon. Meanwhile, Ukraine faces a winter which could see a humanitarian catastrophe. And I use those words deliberately and seriously. If the district heating stations which serve city residents do not have electricity for prolonged periods of time then the water in their pipes will freeze and they will be decommissioned until the Spring. In the sub-zero conditions of a Ukrainian winter it is difficult to survive without heat. I feel especially for the older people and for women with children who cannot leave. With the people of Ukraine, we wait and watch, and we hope and pray for more miracles. Meanwhile, they need every ounce of support we can give them.
I had very mixed feelings when our train pulled out of Kyiv on Friday evening leaving most of the city in darkness. For us it was a return to safer territory. But we were leaving behind our hosts facing a dark, uncertain and dangerous winter. I was humbled by the warmth of the welcome we received and grateful for the kindness of those we met. The trip left me determined that we must continue our prayers and practical support for our brothers and sisters in Christ in Kyiv and for all the people of Ukraine.  
Since my return some people have been in touch wanting to give financial help to people in Kyiv and to Ukrainian refugees elsewhere. The appeal I launched with USPG earlier in the year is still open. We have been able to make many gifts to help people in need in Ukraine and in neighbouring states – you can give here.
Please join our Prayers across Europe for peace in Ukraine with Archbishop Justin Welby as the speaker, which is on Wednesday 21 December at 18.30CET/17.30 GMT/19.30 Ukraine time.